Maus Astrologus
"Daisy Starfall is the wisest mouse I know, but she no longer visits the village. To consult her, you must cross a small pond and climb the stairs to her observatory."
A miniature Mausritter adventure. Players cross a small pond and explore a series of burrows to consult a hermit oracle. Useful as a short introductory session or can be dropped into an existing campaign.
Five locations as the players climb to Daisy's observatory
A telescope made from old pipes and lost spectacles
Introduces a wise mouse, Daisy Starfall, who can act as a questgiver or recurring character
Random tables to help GM's determine favours Daisy might request and the source of the psychic messages she receives
Also meet an antisocial eel named Bertram and a nest of luna moths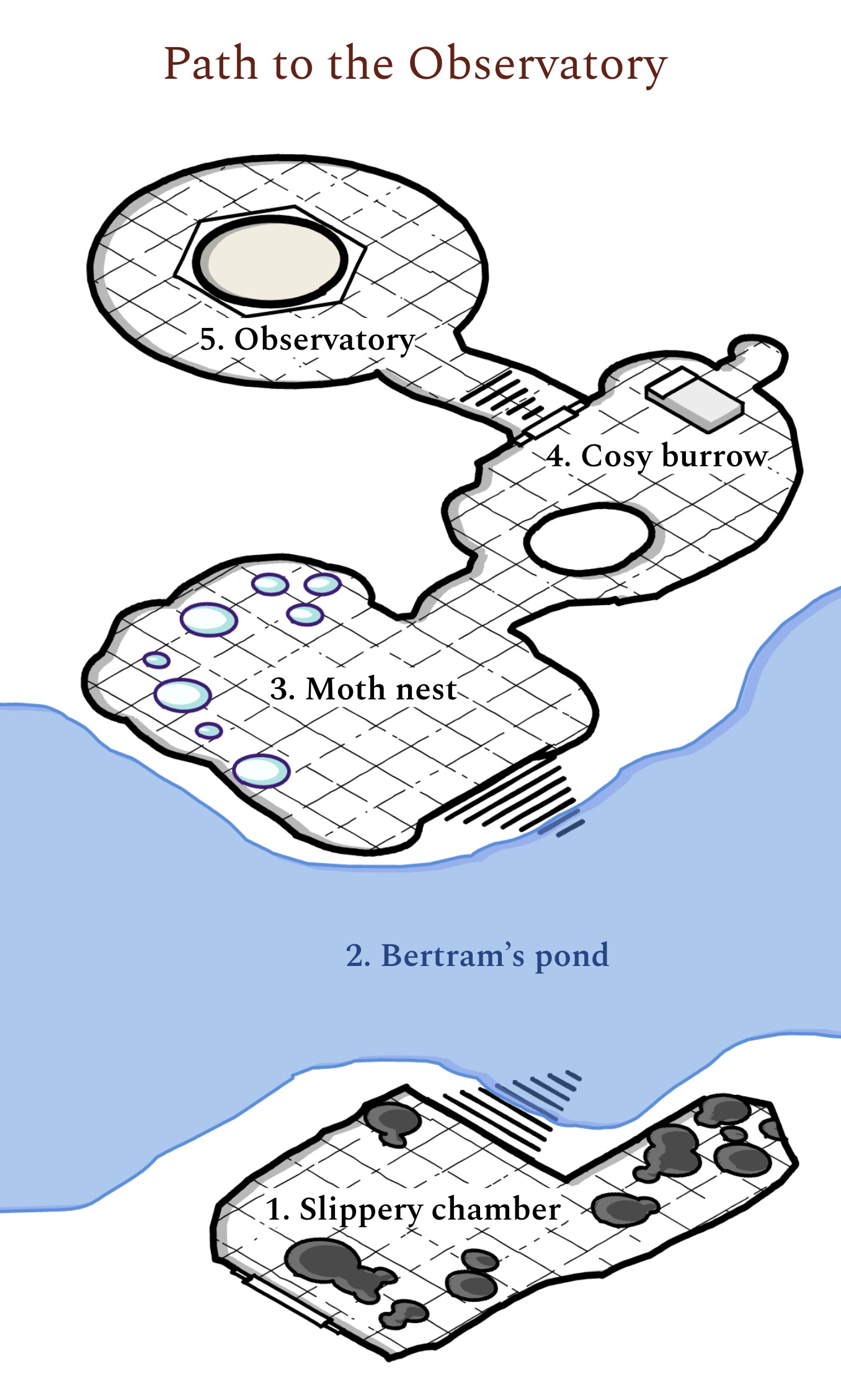 This adventure is a tri-fold pamphlet prepared for the Rittermarch game jam.
Notes for GMs
Ensure players are aware they can see Bertram's pond from the slippery chamber. If someone slips and sets themselves on fire, the stream is available to put themselves out — although Bertram might have other ideas.
Bertram is a powerful creature and Daisy is fond of him. Consider nudging players to find ways to cross the pond that don't involve combat. This might involve feeding Bertram tasty treats or building an improvised bridge.
---
The main image is from page 78 of Buddha's crystal and other fairy stories (1908) via the Internet Archive. It has no known copyright. Map created with the excellent Dungeon Scrawl app.
This is an independent production not affiliated with Losing Games. It is published under the Mausritter Third Party Licence. Mausritter is copyright Losing Games.
Download
Click download now to get access to the following files:
maus-astrologus-v0.3.pdf
365 kB